Friday, July 16 was the day that the Catholic Church in South Sudan remembered with awe Bishop Caesar who was at helm of the country's Rumbek Diocese since 1990, first as Apostolic Administrator, and since January 1999 till his death on 16 July 2011, as Bishop. In messages shared with ACI Africa on the 10th anniversary of his passing on, the member of the Comboni Missionaries has been described as "a true man of God…a man of the people" and a true peacemaker who gave his all for the liberation of South Sudan from years of civil war, poverty and illiteracy.
The Principal of St. Daniel Comboni Secondary School Mapuordit of Rumbek Diocese, Peter Manyiel, particularly remembers the late Bishop's vision for the East-Central African country. "I remember the late Bishop said that he could not leave South Sudan until he saw peace prevailing in the country; and indeed, he stayed till South Sudan raised her flag for the first time since creation of the world," Mr. Manyiel tells ACI Africa Friday, July 16.
He adds, in reference to Bishop Mazzolari, a native of Italy's Brescia Diocese, "He even led a prayer for the first anniversary of South Sudan Independence Day in Rumbek's Freedom Square and said that he was happy to see what he struggled for had come to fruition. A week later, he died... May his soul rest in eternal peace." Bishop Mazzolari died at the age of 74 while Concelebrating Holy Mass the morning of 16 July 2011. Those present at the Eucharistic celebration said the Bishop had a seizure. He is said to have stumbled back onto his chair during the time of consecration and grabbed his chest while gasping for air. After being rushed to Rumbek State Hospital in Rumbek, the medical doctor at the hospital pronounced dead at 8 a.m.
Many knew him for his outspoken stance against warfare and for championing the rights of Sudan's poor and marginalized. The Bishop also advocated for increased education and health care and was seen as pivotal in promoting dialogue and reconciliation across the 10 States of South Sudan. In his tribute to the Bishop Mazzolari, the Principal of St. Comboni Secondary School, which the late Bishop founded, notes that Bishop Mazzolari served the people of God in South Sudan till his last breath.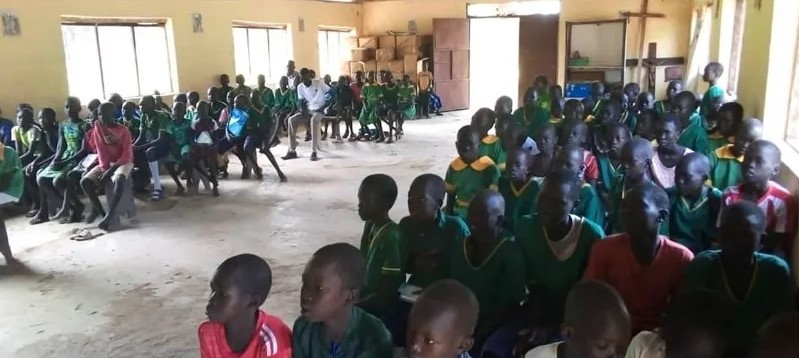 Mr. Manyiel tells ACI Africa that the late Bishop served the Diocese of Rumbek "not only as a true man of God but also a true man of the people and a true peace maker. We could see all these qualities through his commitment to South Sudan Peace signed in Naivasha-Kenya in 2005," the South Sudanese School Principal says, and adds, "Bishop Caesar Mazzolari faithfully followed the example of Jesus by laying down his life for the sake of his beloved people of God and of South Sudan."
He remembers Bishop Mazzolari's favorite quote from the Gospel of Matthew 5:11, "Blessed are the peacemakers for they shall be called children of God'' which he says the Bishop always referred to in his service. "He used that verse to preach peace in South Sudan. And on top of that, Bishop very much encouraged all South Sudanese to turn up and vote for referendum in 2011. He told all South Sudanese, 'do not be like spectators when time comes for all to vote for referendum'. Today if we could count our martyrs, let us count the late Bishop Caesar as one of the Martyrs in South Sudan otherwise it would be unfair and ungrateful to leave him out of the list," Mr. Manyiel says.
He remembers a Bishop who spared no effort whenever he saw people facing challenges especially those related to war and diseases, saying Bishop Mazzolari "could immediately ask for assistance from UN agencies to help the displaced people." Mr. Manyiel calls for prayers for the late Bishop 10 years since he passed on saying, "Dear brothers and sisters… take a minute of your precious time to remember and pray for our late Bishop Caesar Mazzolari so that he may continue praying for peace in South Sudan, our beloved country."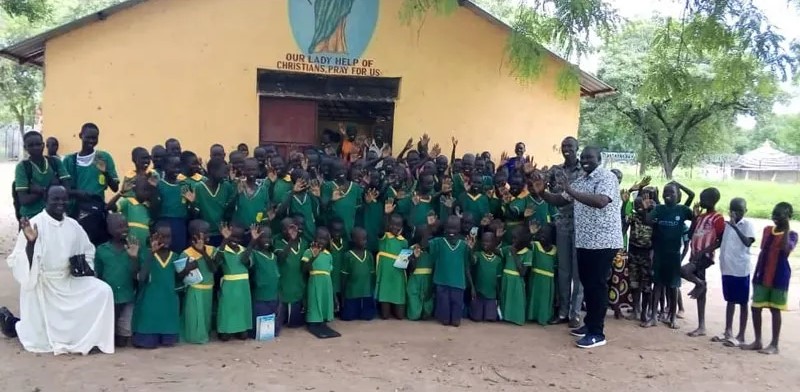 "Let's remember to pray for him today and also on 30 July, 2021 which is the martyrs' day. Remember him as one of the Martyrs of this country," he says, and adds, "The late Bishop Caesar died as a peacemaker and the only way to thank and honor him is to carry forward the peace that he died for so that we may have a peaceful country where all South Sudanese live together as brothers and sisters." Presiding over Holy Mass in memory of Bishop Mazzolari at St. Comboni Secondary School Mapuordit grounds on July 16 morning, Fr. Joseph Pellerino said he has a very lively memory of the late Bishop's "devotion to prayer before the Blessed Sacrament."
"That is also my memory of him," Sr. Rita Grunke who participated in the Holy Mass at the Mapuordit school grounds tells ACI Africa. Sr. Rita adds in reference to the house of Rumbek Diocese in Nairobi, "Whenever I spent time in Bethany House, late Bishop's long hours in the chapel, in the front chair was really remarkable. Day time prayer at times continued into the night."
"He certainly was a man of prayer, of deep wisdom which he gleaned from his hours of prayer. He was a talented photographer and used his photos," the member of the Sisters of Our Lady of Sacred Heart (OLSH) says of Bishop Mazzolari. The Australian-born Sister recalls the late Bishop's "sense of humor at meals" saying, it "created enjoyable times."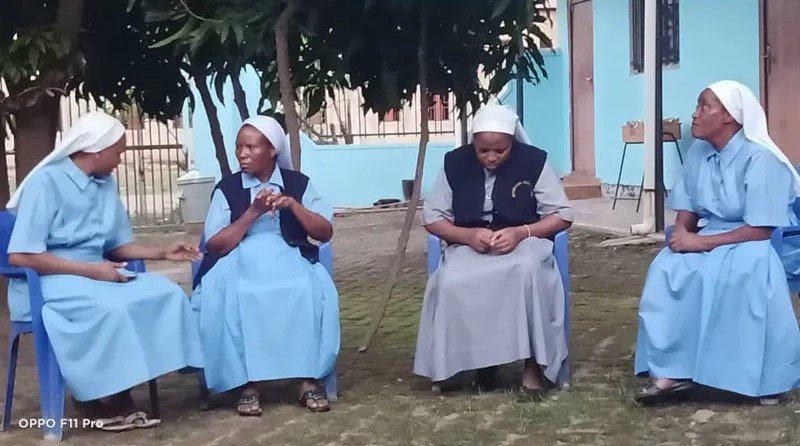 Bishop Mazzolari's "health, though not robust, never hampered his ministries," Sr. Rita further recalls, describing the late Bishop as "a most tolerant, creative and charismatic leader." During the July 16 Eucharistic celebration, Fr. Pellerino who was the predecessor of the late Bishop as Apostolic Administrator of Rumbek Diocese reminded the congregation that Bishop Mazzolari never spared himself.
The Italian-born Comboni Missionary recalled Bishop Mazzolari sitting in the Outstations of Parishes for prolonged lengths of time hearing confessions. It seems Bishop Mazzolari's "mission endeavors were very much inspired by St. Therese of the child Jesus," Sr. Rita says, reflecting on what Fr. Pellerino remembered of his late confrere, Bishop Mazzolari. In her tribute to the late member of the Comboni Missionaries, Sr. Orla Treacy, the Principal of Loreto Secondary School of South Sudan's Diocese of Rumbek describes a man of God who "was generous to a fault."
"Bishop Caesar helped to feed thousands of people during the hunger and educated a group of young people that now hold key positions in government and elsewhere," Sr. Orla tells ACI Africa. Recalling one of her interactions with the late Bishop, the Irish-born member of the Loreto Sisters says, "I remember Bishop Caesar as a man of vision. He came to Ireland in 2004 and 2005 to invite the Irish Loreto Sisters to begin a girls' boarding secondary school."
Sr. Orla who was among the pioneer Loreto Sisters in Rumbek Diocese in 2006 says that Bishop Mazzolari always demonstrated his charisma and optimism for development in South Sudan when he approached the Sisters with the idea to build the school that has grown into a thriving project. The Catholic Nun recalls that when the Loreto Sisters eventually came to South Sudan in February 2006 and declared that they wanted to start a secondary school, they were laughed at.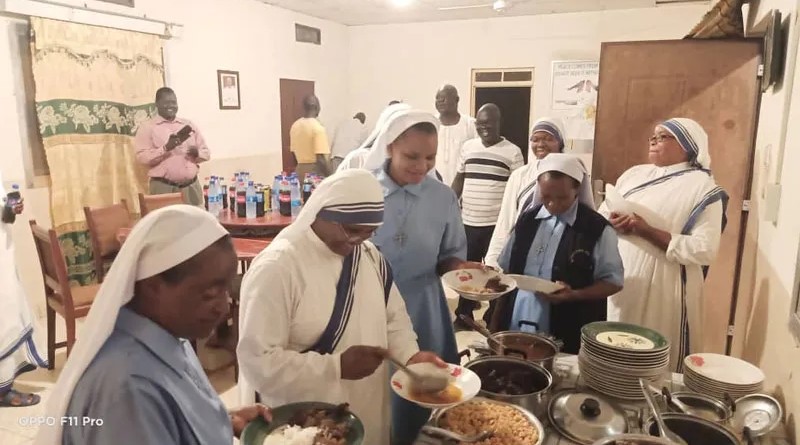 "When we told people in Rumbek of our plans for a girls' boarding secondary school many laughed. How do you open a girls' secondary school when few girls are in Primary School, they wondered. And that was the reality," she says. She goes on to recall, "Bishop (Mazzolari) never gave up hope and insisted the girls would come and the community would change. I am only sorry that he didn't live to see his vision fulfilled."
"Today we have over 300 girls in Secondary School. In these years we offer one hundred places and four hundred come. Rumbek is alive and the young people are longing for education," Sr. Orla who also oversees a Mission dispensary in the South Sudanese Diocese narrates. She recalls that Bishop Mazzolari was a man who never said no whenever he saw anyone in need of his help. "The Bishop did warn us of the great needs. He used to say, the needs are great but you have to remain focused on your mission. Yet Bishop was a man of heart and service; he could never say no. As missionaries, how and when is it okay to say no?" she recalls and poses.
The 48-year-old Irish Nun tells ACI Africa that the Church in South Sudan, driven by the generous spirit of Bishop Mazzolari, continues to reach out to those who have been affected by an increase in intercommunal and clan flights and political instability. "Giving service and offering one's life was a constant message of Bishop Caesar, he used to say South Sudan needs martyrs," she recalls, and adds, "We have martyrs; so many silent people who have suffered, mothers, parents, young children dying from hunger, lack of medicine and conflict."
She says that Missionaries in South Sudan have also shared in the country's suffering, with many being shot at, killed and sometimes chased from the country. The legacy of Bishop Mazzolari, however, Sr. Orla says, remains a strong force behind the work of Missionaries in South Sudan. "His passion, love, compassion and vision has helped us to continue to serve, to build and to educate the next generation of young people," she tells ACI Africa in reference to the late Bishop.
The Catholic Nun further reveals that Bishop Mazzolari never took a day off from work and was always doing something for the South Sudanese people even when he flew out of the country. She recalls what the Bishop used to say, "I just need a few hours of rest", and adds, "Even when he visited Italy he would come back with his folder of photos, of the people he met and the meetings he had. The people of Rumbek were always in his mind and heart."
She says that Bishop Mazzolari was a great man of prayer, recalling that he prayed until his last minute when he died during Holy Mass. "Bishop Caesar was always in the Cathedral early each morning for his own morning prayer. It was the same chair that he prayed in each morning where he died," Sr. Orla narrates, adding, "While his death came as a great shock to us, it was a consolation that he died serving among us all in Rumbek and that he is buried with us; we feel he is still with us." Fr. Henry Gidudu, a member of the Clergy of the Diocese of Rumbek, has paid tribute to "a true shepherd who loved his flock."
"I remember seeing him embracing one of the blind lepers," Fr. Gidudu tells ACI Africa, and poses, "How many can do this? Right from the time of Jesus lepers are isolated." The Ugandan-born Priest remembers the Bishop who promoted quality education and women empowerment saying, "The best way to remember him is to imitate his saintly and admirable life." Born in 1937 in the Italian city of Brescia, Bishop Mazzolari later joined the Comboni Missionaries and was ordained a priest in 1962.
He first arrived in Sudan in 1981 and ministered in the Diocese of Tombura-Yambio, then the Archdiocese of Juba. In 1990, he was appointed Apostolic Administrator of Rumbek Diocese and that same year, helped free 150 child slaves. Well acquainted with the dangers of his ministry, Bishop Mazzolari was captured and held hostage for 24 hours by guerrillas from the Sudan People's Liberation Army (SPLA) in 1994. Pope John Paul II ordained him a Bishop in 1999.
Msgr. Christian Carlassare who was appointed the Bishop for Rumbek Diocese on March 8 and is recovering from gunshot wounds sustained on the night of April 25-26 is expected to succeed Bishop Mazzolari as Bishop of Rumbek Diocese. The South Sudanese Diocese is under the leadership of Bishop Matthew Remijio of Wau Diocese.