Much of this has been thanks to my connection with the women through many different activities. At Comboni House I have been meeting them personally. Every Monday about 40 or 45 women come to learn crocheting, paint on cloth, and carry on various activities. Right now, I am teaching them free hand drawing. This started because several of them wanted to do their own drawings in order to paint them on cloth. Earlier in the year, I was not able to recognize them all, but now I already know several by name and have a closer relationship with some of them. It was interesting how it all started, because at the beginning I only had five students in it, and they kept on working even though I had to leave them, because painting needed more help. However, at the end of the semester there was an evaluation and many of them were interested in learning how to draw. It was a great gain, because now I have 24 women who are striving to learn free hand drawing. For me, it is a form of confidence, learning to give each one her proper space, welcoming them each Monday, being mindful of what they need, thus creating an atmosphere of mutual trust, resulting in this desire to be together. Today, I am happy with this little step I have taken. It took time, but now I understand what the missionaries have been saying, namely, that it takes at least one year to get to know the community and, especially, to earn the people's trust. I am also working with a group of women in Ype Amarelo where we started with three women and now we have seven. We have made candles, engaged in printing activities and we are now starting with embroidering. I was very impressed by the response of the women of St. Hedwig. This group started after an evangelization mission our pastor held to animate the community. Now there are 16 women attending faithfully to learn crocheting. Later on, we will move on to painting and drawing.
The striking thing about these communities is the relationships of friendship that arise among the women and the good it does to their personal development. Many of them suffer with problems related to their children, spouses and work. Alcohol and drugs are very much part of these families' life and "craftwork" is their space where to feel strong, stop smoking as one of them said, to curb these desires and turn from bad habits to art. These activities also help some of them to earn a little extra income, because what they have is not enough to live on. Certainly, I would love to have something extra to buy material and help them more, because for sure some have the means, but for others it is difficult even to make a little contribution. Now I feel closer to them, and it is easier for me to better understand their decisions, their joys and their sorrows because we live in the same neighborhood, in the same conditions, under the same influences and social problems. I know that, in the midst of all this, there is hope and the smiling faces of these women, enlivened as they rise out of depression, as they find this creativity within themselves and feeling valued and useful, is beyond comparison. Without any doubt, God is present and allows me to know him in this way, in his chosen daughters, the beloved for whom he came into the world.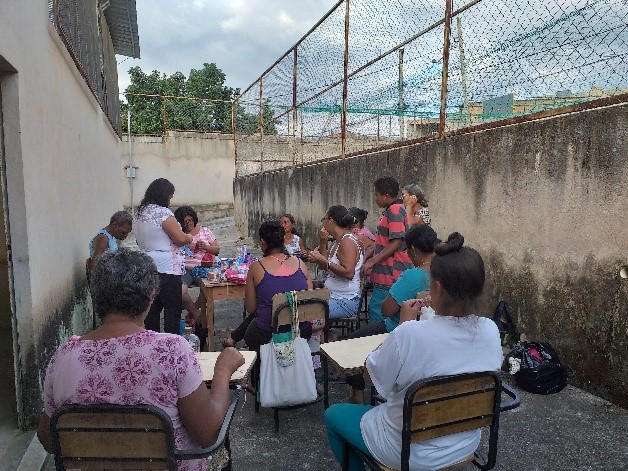 These are valiant women fighting against the current, in a society that marginalizes and judges, but where the Lord makes their faces shine with his light.
Mission changes our lives, and it is changing mine making me be more compassionate with those who suffer and making me understand that there is a reason for every decision for better or for worse. It is only necessary to let go of our skin and live under someone else's in order to share the same feelings, the feelings of Christ.
A warm embrace. Keep on praying for us, that our family life may accomplish God's will.
[Ana Cris – Comboni Lay Missionaries]